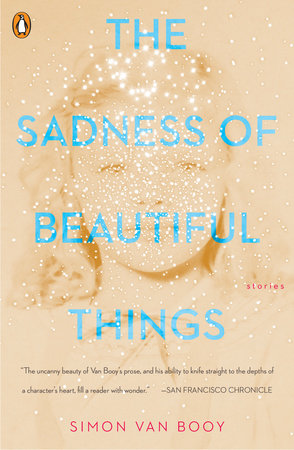 What a great title.
I'm not usually a fan of short stories, but I got a signed copy of Simon Van Booy's The Sadness of Beautiful Things not long ago, and cruised through it at breakneck speed. Thanks to Michelle T. for the heads-up on a writer I probably would have not otherwise come across.
One prolific reviewer on Goodreads named Angela M summed up my thoughts perfectly when she wrote:
I don't always get the significance of book titles, but this is one that fits this small collection of stories so perfectly, every one of the eight beautifully written sad stories. I was amazed that in such few sentences, in such a short time that I could come to know and care about all of the characters. These stories are not connected in the way that some collections are that make you feel as if you've read a novel. These are distinct stories, yet they have much in common. Smooth, even writing that in its sparsity reveals so much; each is filled with love in some way making even the saddest thing about each of them somewhat more bearable.
This collection of deeply relatable tales is especially poignant if you have even a cursory knowledge of the State of New York, but is not essential in feeling the power of Van Booy's words through the eight short stories that long resonate after you've finished the last page.