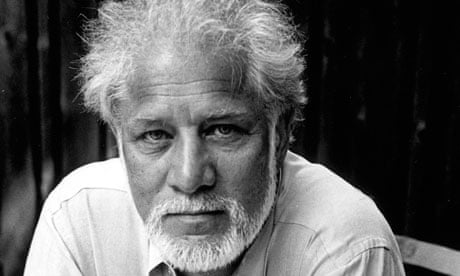 Trust me, this will take time, but there is order here, very faint, very human. Meander if you want to get to town.
If you spend enough time outside of Canada as a Canadian, you're bound to have a conversation with an American that goes something like this at least once in your life:
– "So where you from?"
– "Canada."
– "No way! Do you know a guy named Tom? I forget his last name, but I think he's from Saskatoon. Or…wait. No. What state is Saskatoon in?"
In any event, I may have inadvertently proven that stereotype true last week when I ran into Michael Ondaatje while out for a walk in my neighbourhood. Of course I ran into the 1992 Booker Prize winner, nay, the 2018 Golden Man Booker recipient. Just another day at the office here in the Saskatoon of Ontario. And of course I reminded him that he had won both those awards. You know, in case those trivial facts had slipped his mind
For those who know me, they will also know how much I venerate Mr. Ondaatje. I like to think — think — I keep my shit together with the best of them in stressful situations, but the author of what I have openly declared the most important work of fiction in the 20th century (The English Patient) brought out the ohmygodshootmeinthefacerightnow shakes in me. And he's all cool, like, Ya, I'm a good-lookin' dude and write like the badass yo' mama told you to stay away from 'cause there's a trick with a knife I'm learning to do. (I think he wrote something along those lines in The Collected Works of Billy the Kid.)
But I digress. After sheepishly asking him if he was indeed Michael Ondaatje, and he confirmed said fact, we talked for a few minutes. I gather he sensed my excitement (i.e. I was going slightly insane in the membrane) and he rewarded me for this boyish ebullience by showing off his dashing smile now and again as I basically listed off his accomplishments to him like a humanoid version of LinkedIn. Before we went our separate ways, he extended his hand for me to shake. Two equals we are not, but shake my hand like an equal he did.
Later, like a teenage dickwad fresh off his first date, I played the conversation over in my mind a million times when I got back home. Was I too direct? Did I come off too macho? Too lame? Did he notice that I'd had my hair cut yesterday? And why the hell did I wear those piece-of-crap shoes otherwise known as Zellers Specials from the 1980s!
It goes without saying that he noticed none of this shit. Why? He's Michael god damn Ondaatje. As one of my hockey coaches used to say to us young fawns when we got caught in the proverbial headlights of life: "Get yer head outta yer ass and keep yer fackin' stick on the ice, man!"
Here's the thing. I don't look up to a lot of people. Fewer still if them being alive and kicking is a prerequisite. It's not likely Michael and I will ever be BFFs, which in my own brain seems incongruous because I know so much about him. And that's because we form a different relationship with authors than we do with other artists. We don't, for example, spend four minutes listening to their genius or two hours watching them weave their magic on screen or consider their message in those fleeting seconds or minutes we take in their brilliance at a museum.
No, we spend days and weeks and months and years with authors. They carve a unique pattern into the complicated fabric of our hearts and minds, distinct niches where no one else gets to go but them. Well, them and us. 'Cause we're a team. Together, we intimately know the "bodies we have plunged into and swum up as if rivers of wisdom, characters we have climbed into as if trees, fears we have hidden in as if caves." Then we share these feelings and memories with friends, loved ones — even strangers on the Internet.
This relationship is more than special and beyond reproach. And that's because we've gone through so much together! We totally get it when Patrick says he "never believed that characters lived only on the page…Each character had his own time zone, his own lamp…" Shit, me and Ondaatje carried Katharine Clifton's body out into the desert together, "where there is the communal book of moonlight." We got behind the wheel of a car with Hana, "under six stars and a moon," because "Each person had their moment when they assumed the skins of wild animals, when they took responsibility for the story." And guess what (we want to whisper to Hana)? Your turn is about to come up in an Italian monastery.
Along the way we even came through slaughter together before having a bunch of "conversations" with Walter Murch about a film that would take home nine Academy Awards. Man alive, we've been on more than one tour through World War II together, smelled the Cinnamon Peeler's Wife, and returned to Sri Lanka, where our guide and author was born, after being away for many, many years, thank you very much, Anil.
We bums from the slums will always question how we come across to those whom we gaze at through refracted beams of broken sunlight. We know we're idiots and usually do a pretty convincing job of coming across exactly that way to the person in question. Why do we do this? I have a feeling somebody already has the answer: "New lovers are nervous and tender, but smash everything. For the heart is an organ of fire."
Did Ondaatje think I was mentally unfit and in need of some serious electroconvulsive therapy when I whipped off his "We die containing a richness of lovers and tribes" segment of The English Patient to his face? Me, the god damn reader, reciting the author's own words to him on a moonlit street like we're a couple of long-lost chums out for a poetic riff off. Seriously, who does that?
But I digress. Yet again. I'm good like that. I'll leave this horrible attempt at a love letter from afar by quoting someone with a lot more mileage in the world of literature than I, George Bowering. In Jean-Michel Lacroix's Re Constructing The Fragments of Michael Ondaatje's Works, the 87-year-old Bowering penned a chapter titled "Once Upon a Time in the South: Ondaatje and Genre." Aside from being a worthy read and wonderful insight into Ondaatje's writing, George Bowering starts with an introduction that, in the opinion of someone who excels in douchebaggery, captures the wonder and paradox of a true national treasure here in Canada:
Michael Ondaatje is the plainest of men. He never has a decent haircut. He wears jeans that look like two blue bags. His favourite movie is a spaghetti western. It takes him years and years of painstaking assembly to write one of his elegant novels. His lyric poems are the envy of lazier poets for their meticulous wonder. He writes as if the fragile balance of our universe depends on every sentence he accomplishes.
And that's precisely why Michael Ondaatje is so epic for us, our very own modern-day Gilgamesh. It's also why our universe never implodes upon itself — because when we are in his wise, gifted hands, we are all safe and free to dance lyrically among the rumour of wells, in the palace of winds.