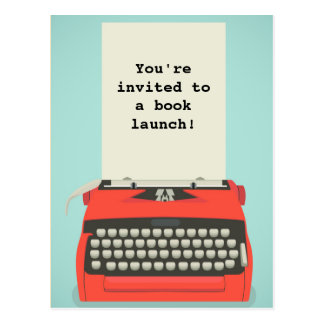 Launching a launch. Ha ha ha. That's funny. (NOTE: Sedaris, you got nuttin' on me! Oh, and I'll be here all weekend…maybe longer.)
Seriously, though, a book launch is no laughing matter, doubly so if you're handling it all on your own. If you're going to do it right, it takes a lot of planning, hard work and – sadly – some dinero. I wrote a bit about the whole thing in a post (YOLO: You Only Launch Once) and more generally through a page on the self-publishing process.
However, Cecilia Lewis (@ceciliaedits) over at Lewis Editorial: Bringing Stories to Life also has some useful advice for indie authors, especially those about to go to their first rodeo, in a post called "7 Tips for a Successful Book Launch."
I concur with everything Ms. Lewis has to say and would add one thing to No. 7: Celebrate. I've done five book launches/signings in two countries and in two languages and I can tell you this: The more formal and structured and icky you make it, the less enjoyable it is for everyone. I think book launches should be run like a good book club; people need to want to be there, not because of the moral imperative ("Come on, Mom! It's one afternoon away from your underwater crochet class!"; "Bro, like, I'll buy you that custom back waxing that can skip over your BackAc if you come for at least, like, five minutes."; "Norma Ray, you're my best friend in the whole wide world and I promise to teach you how to talk pretty one day just like DSed."), but because it's going to be a good time (i.e. free booze), they can meet other interesting human beings (no doucheags in fancy suits or ascots), and if they're a writer/artist themselves, they can network without looking desperate (sort of an oxymoron, sort of not).
To all those out there about to embark on their first book launch, I wish you all the best. One last piece of advice: Practice signing your name a bunch of times in a row and try not to make it look like chicken scratch the 10th time around (cough), because readers like to show off their signed copies with something legible (cough cough) that does not resemble Chinese characters that got caught in the washing machine on the perma-spin cycle (cough cough cough).